Description
💅 Multifunctional Nail Tools
With this all-in-one nail extension gel kit, you save time and money for the beauty salon and you can DIY your own beautiful and artistic extension nails or other nail art designs. Also good for UV gels / acrylic nails / other nail extensions. Bring your beauty salon home!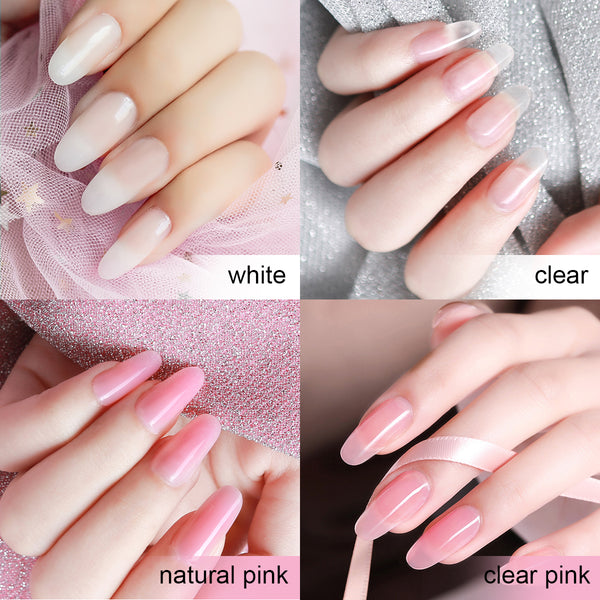 💅 Multiple Colors
4 colors to meet your daily needs. Include transparent, transparent pink, pink and white, they are beautiful and naturally strong! You can mix the nail extension gel with another color to get a different color or mix the nail extension gel with glitter to get a bling nail art.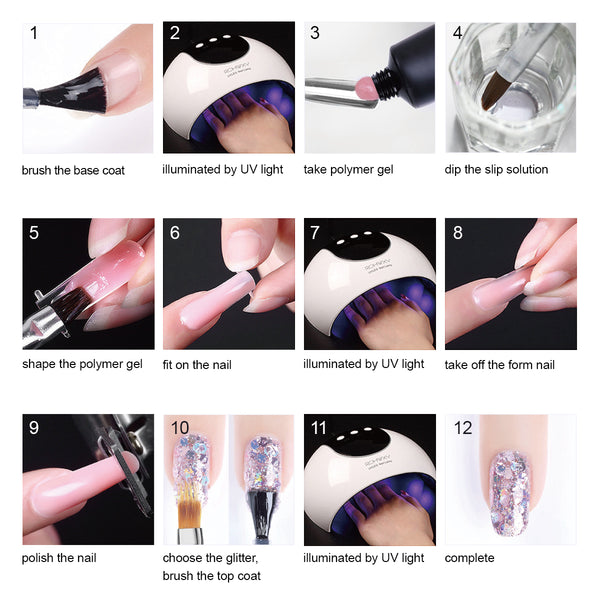 💅 Effective tips for a long time up to 15-20 days, depending on the correct use.
You can mix with different color nail extension gel to create a different color or mix the nail extension gel with glitter, to create a bling art.
After finishing the gel nails with nail extension, you can clean with alcohol or nail polish remover on both sides of the nail, so that the sticky layer is removed and the nails will be smoother and shiny.
It may be difficult to squeeze the gel at low temperatures. We recommend that you seal the tube in an airtight and waterproof bag, put it in hot water at about 60 ℃ for 5-10 minutes, then take it out and use it normally.
How to remove it:
with an acrylic solvent, soak the nails for about 5 minutes or use acetone RUB in a cotton ball and combustible paper.
Founded on the concept that your nails represent more than just an accessory, the Seriously Silky Luxury Polygel Kit is designed to be an extension of the woman using it: elegant and expressive.
We believe elegance doesn't have to be expensive, you can save up to $600 dollars each year by switching to the revolutionary solution in nail technology.
Polygel was originally created for nail technicians, offering the best of both worlds – combining the durability of acrylic nails, with the elasticity and beauty of gel nails. Now, it has been successfully developed for regular use so you can achieve salon-ready nails at home.
You can give yourself a professional and salon finish for less than half the price of your monthly set!
And for a limited time only, we're offering a 50% OFF Sale on each of our Luxury Polygel Kits.
Why choose the Seriously Silky Luxury Polygel Kit?
Unique Formula: Our Polygel formula is developed with the health of your natural nails in mind, its nail-friendly and much safer than acrylic.
Professional finish: Don't spend hundreds of dollars and countless hours in the salon when you can achieve superior standard nails in the comfort of your own home
No skills necessary: Our kit is perfect for beginners, no prior skills needed.


And it's as easy as  1,2,3.
Clean nails, apply base coat and squeeze the right amount of Polygel
Choose the preferred size nail tip and roll the Polygel onto the tip.
Apply to your nail, wait to dry, then trim to your ideal shape!
100% genuine salon quality.  No filler and no unnecessary chemicals – just the experience and execution to develop a truly unique luxury nail kit.
And what's more?
Our luxury formula lasts for up to 4 weeks! Unlike acrylic and gel nails, our Polygel is chip-resistant, non-toxic and will not harm your nails or skin.

Different applications for the Polygel:
WAY #1: With the dual forms
Perfect for beginners who want something a little different
WAY #2: With nail form
If you are skilled at using nail extension kits, you can also use nail forms to create nail art.

WAY #3: Apply as an overlay:
You don't need to extend your nails, you can simply use the Polygel to cover your natural nails for protection and better color pay off.