Description
Relax Sore Muscles and Relieve Stress Instantly with the Powerful
Shiatsu Pillow Massager
Do you constantly suffer from back, neck, or body aches?
Regular Massage is one of the most effective ways to release a long, hard day that's packed with stress, tension and tight muscles.
While you can't always have a masseuse or a partner or a friend to rub you down and make you feel better, you can get the next best thing with our Shiatsu Pillow Massager. It is an excellent way for getting instant relief from body, neck, or back pain. 
HIGHLIGHTS:
✔ THERAPEUTIC HEATING: The proprietary infrared heating feature simulates a deep tissue massage and provides gentle warmth to comfort tired muscles and promote blood circulation. Advanced Heating function soothes aching muscles, leaving your muscles feeling relaxed and rejuvenated while getting rid of aches and fatigue!
✔ ERGONOMIC DESIGN: Compact shape & Curvy design fits perfectly behind neck or body contours of the lower & upper back, abdomen, calf, and thigh areas.
✔ ADVANCED MASSAGE NODES: Relax overused and tight muscles easily with kneading massage nodes that imitate a relaxing massage from a professional masseuse. Nodes automatically change directions every minute for a thorough massage.  
✔ UPDATED FLEXIBLE STRAPS: An adjustable elastic strap on the back of the massager can be easily attached to car seats or bigger chairs. 
✔ ONE-BUTTON CONTROL: The automatic mode changes the direction and speed every few minutes to provide a massage experience that mimics a human massage. You can also change the direction at the touch of a button.
BENEFITS:
COMPLETE BODY MASSAGE: Fits perfectly for your neck, cervical, shoulder, upper and lower back lumbar, abdomen, calf, and other thigh areas.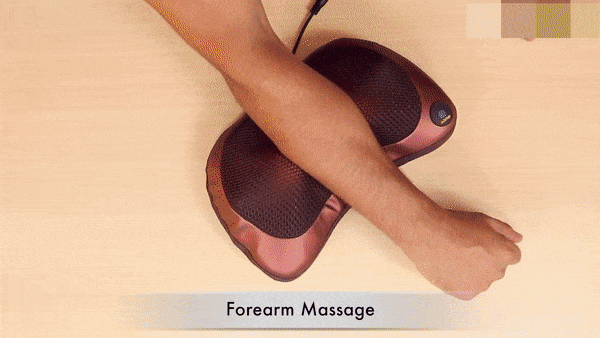 AUTO-OFF FUNCTION TO PREVENT OVERHEATING: The Shiatsu Massage Pillow will Power off after 20-minutes to avoid overuse when falling asleep. Equipped with an Overheat Protection feature, the device will automatically shut off the motor to ensure the user's safety and prevent damage.
PERFECT FOR HOME OR CAR: Carry it on the go! Take them anywhere with you and enjoy a deep tissue massage in your home, car, office or while travelling. With the adjustable straps, you can fasten this massage pillow on the car seat or chair and enjoy a comfortable massage wherever you are. It also comes with a built-in car adapter.
EASY ON YOUR POCKET: You can't put a price on good health. We know that muscle pain can be very annoying. Our pillow massager mimics the effects of a shiatsu massage, which is well known to be a great pain reliever. This pillow will give you thousands of uses for a fraction of the cost of single therapy.
HOW TO USE:
Simply plug in the power cable, select your massage location, press power on and enjoy!
PACKAGE INCLUDES:
1 x Massager Pillow

1 x AC Power Adapter 

1 x Car Adapter